Edward Tse: China's Shift into Industrial Automation
By Edward Tse
December 2019
Another new article authored by Gao Feng Advisory's CEO Dr. Edward Tse was published, where he discussed china's shift into industrial automation. Dr. Tse said robots will become a strategically important constituent in China's labor force going forward.
China's labor market is evolving from a mass of unskilled labor into one featuring an increasingly sophisticated labor force. Now, it is transforming as automation and the use of robotics in manufacturing or logistics sectors are rising fast.
Cheap labor has long been considered as one of the main factors propelling the country to the status of the word's factory, which shifts global supply chains and attracts thousands of companies in other countries moving their plants to China. However, economic growth during the past 20 years has led to a rapid increase in wages. China's average wage increased by 8.2 percent annually in the decade, much higher than the global growth rate, according to the International Labor Organization report. In the report, it also mentioned the average real wages of China has almost doubled between 2008 and 2017. That's the result of an economy that's been growing by high single digits to double digits annually for two decades.
In 2008, Beijing updated its Labor Contract Law to improve the labor contract system by defining labor right, reducing working hours and improving the welfare benefits and working environment. Labor conditions have largely been improved since that time. At the same time, there are an oversupply of educated workers and a shrinking low-cost labor force as more high school graduates go on to obtain university degrees. With increased labor union activities, better wages and higher levels of education improving the plight of workers, manufacturing becomes less profitable before the country can shift to less labor-intensive and more value-added industries.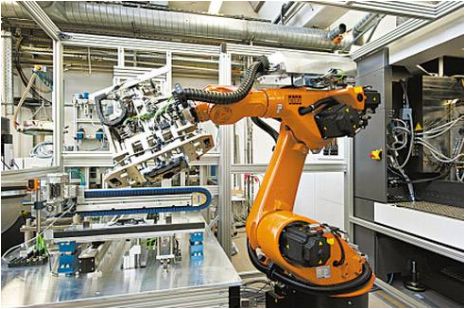 Source: Baidu
"Made in China 2025", a strategic plan of the People's Republic of China issued by Premier Li Keqiang and his cabinet in May 2015, aims at rapidly moving from being a low-end manufacturer to becoming a high-end and high-tech producer of goods. Under the plan, the number of industrial robotics operating in China is targeted to expand tenfold to 1.8 million units by 2025. As part of its effort to upgrade its manufacturing sector, the Chinese government started a campaign in 2014 with the overall aim to gradually replace manual labor with robots, with the heavily industrialized provinces of Jiangsu, Zhejiang, and Guangdong among those introducing the new technology on a massive scale.
According to the World Robotics 2019 report released by International Federation of Robotics (IFR), China has been the world's largest industrial robot market since 2013. The city government of Dongguan, in the heart of the Guangdong province that is known as China's industrial and export hub, has allocated 385 million yuan (US$56.8 million) to boost automation in factories last year alone. Foxconn, the Taiwanese electronics giant which makes half of the world's iPhones, plans to fully automate 30 per cent of its production by 2020. In the logistics sector, robotics is also changing the whole industry. Cainiao, one of China's leading logistics players (~63% owned by Alibaba), has opened China's largest and most efficient robot-operated warehouse in 2018, with the application of nearly 700 robots, including robotic arms and unmanned drones.
China began its economic ascent as the "world's factory" over the past several decades by taking advantage of cheap labor. Now, a robot revolution is under way and robots will become a strategically important constituent in China's labor force going forward.